If this really is Toronto superstar trio Rush's last hurrah, then Geddy Lee, Alex Lifeson and Neil Peart are going out on the right note
Nick Krewen
Music, June 18, 2015
What a legacy.
If this indeed is hometown superstar rock trio Rush's last hurrah in terms of big, extravagant world tours — as its members have hinted in numerous interviews — then this was the note to go out on: a three-hour Air Canada Centre marathon that superbly traveled down memory lane in celebration of the band's 40th anniversary.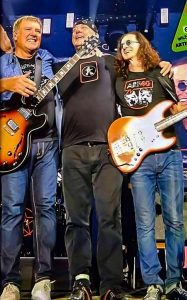 Delivering what has been the Holy Trinity of Rock's hallmark since they finalized their lineup in 1974 — namely precise, sophisticated, disciplined musicianship and intellectual songwriting that have provided models for both inspiration and aspiration — Geddy Lee, Alex Lifeson and Neil Peart wound back the hands of time to offer a generous sampling of music in a career that has defied the odds.
While the skilled triumvirate couldn't be expected to include all 19 albums and one EP's worth of multi-platinum-selling material, the band had managed to still pepper in some rarities in their 26-song set by the time the clock hit 11:20 p.m.: notably early gems like "Lakeside Park," from Caress Of Steel, "Anthem" from Fly By Night and a combo of "What You're Doing" and "Working Man" from the pre-Peart, eponymously titled Rush.
The sold-out crowd, which were on their feet for the introductory notes of concert opener "The Anarchist," the first of a trio of songs from the steam-punk themed Clockwork Angels, cheered loudest for the vintage stuff, of course. And when they weren't screaming and clapping their approval for the music, they were doing it for every recognizable "Professor" Peart drum fill, every searing Lifeson guitar solo and every intricate Lee bass run (he also played synthesizer) that had fueled many a musician's dream.
It gave pause to reflect on what has been an incredible run so far. Like many in the crowd, I suspect, judging by those slightly older fans that brought their kids and grandkids to the show, this reviewer's first big arena concert was a Rush performance. At the time, it seemed far-fetched that the band that was stretching the boundaries of rock and pushing its envelope globally — much to the then-music mainstream media's chagrin — hailed from Canada, much less Toronto.
But Rush did it, all right, with a combination of sharp, complex melodies and arrangements that flowed mainly from Lifeson and Lee; smart, philosophical and adventurous prose from Peart, as well as his lyrical, propulsive, percussive drumming, and a refusal to compromise their art for commerce: an attitude and approach that not only silenced many opponents, but has converted even the most ardent skeptics into believers (hello Rolling Stone and Rock N' Roll Hall Of Fame).
Glancing around the ACC, you could see and feel the sense of hometown pride flowing from the fans, as well as the 40-plus years of blood, toil, sweat and laughter emanating from the stage as Rush delved into Vapor Trails' "One Little Victory," Grace Under Pressure's "Distant Early Warning," Permanent Waves' "The Spirit of Radio" (inspired by the early format of local radio station The Edge) or A Farewell To Kings' epic "Xanadu," replete with tubular bells.
And the way Rush visually honoured each era was so thoughtfully executed, that any concertgoer who attended a show during a certain era will be delightfully surprised by the details in the way of lighting and mannerisms that were resurrected for this occasion.
If you haven't got tickets for Friday's sold-out show, you haven't completely missed out: both ACC shows are being recorded for posterity for the future R40 tour DVD.
What you'll witness when you pick it up is what we all witnessed: three peerless musicians delivering a classy and magical retrospective and a shining example of career integrity that will probably never be repeated in our lifetimes, especially with the fragmentation and ever-shifting technological volatility that's consistently reshaping the musical landscape.
At one point early in the show, Lee told the crowd it was good to be home and thanked us not just for coming out for the show, "but for coming out the last 40 years."
Geddy, you, Alex and Neil have given fans good reason to: it was a show for the ages.
Here's to many more years of great Rush music.
Hometown superstars Rush put on a show for the ages | Toronto Star