This article appeared in the KW Record on Tuesday, July 14, 1997 and The Hamilton Spectator
Nick Krewen
He's gone from Supertramp to solo tramp and encountered many trials along the way.
So it's no wonder Roger Hodgson calls his first album in ten years Rites Of Passage.
The loss of his sister Carolyn to cancer, a mysterious crippling disease that temporarily robbed him of the use of his legs, a wrist-shattering accident that threatened to end his career and the continued emotional fallout relating to his departure from Supertramp all pre-empted Hodgson's attempt to regain his footing as a performer until recently.
"I believe life had other plans for me," says Hodgson, who co-founded Supertramp in 1969 with Rick Davies and wrote such huge 'Tramp hits as "The Logical Song," "Dreamer," "Fool's Overture," and "Take The Long Way Home."
"I had some things to learn, and now I feel I've been through my own rite of passage."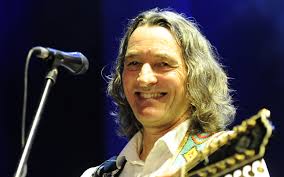 Sitting in his Toronto hotel room on the eve of Canadian tour that stopped last night in Guelph, Hodgson, 48, looks tan, thin and healthy. A few added wrinkles around the eyes are the only indications that it's been 25 years since Supertramp recorded their groundbreaking album Crime Of The Century.  It was the beginning of a period where they would sell more than 50 million albums — 5 million of them in Canada.
"Canada was always a very special territory for us," notes Hodgson, and Diamond awards signifying 1 million Canadian album sales each for Supertramp classics Crime Of The Century, Even In The Quietest Moments  and Breakfast In America  verify his claims.
Yet over the next 30 minutes, Hodgson revealed that rosy appearances are not always what they seem.
"It was a pretty magical time," says Hodgson. "But people think with success that things are wonderful. They don't see the other side of it. You lose your privacy, and everyone around you treats you differently. It's a hell of an adjustment that freaks most people out.
"When Breakfast In America  hit, the band really started to fall apart."
Although the band's popularity continued to peak, tension between himself and Rick Davies led to his departure in 1983.
"It was always a challenge," Hodgson recalls. "We were polar opposites, yin-and-yang. To tell you the truth, I don't even know to this day if Rick even likes my songs."
As Hodgson released his first solo album, In The Eye Of The Storm, Supertramp carried on without him. Although he had no problem with Davies carrying on the band name, Hodgson feels his former partner broke their trust when Davies hired Mark Hart to sing Hodgson's contributions on tour.
"The only thing I've been upset about is Rick getting someone else in to sing my songs," Hodgson protests. "He broke his agreement to me. Apart from that, more power to him."
Hodgson had just finished a second album, 1987's Hai Hai, when disaster struck. A fall at his Californian home broke both his wrists, incapacitating him for two years.
"It was a very good lesson for me, looking back on it," he says. "I'd really lost sight of what I wanted and who I was as an artist. I was miserable.
"So life got me out of it by putting me in handcuffs and breaking both my wrists."
After he recuperated, the idea a full-fledged reunion of Supertramp was revived in 1992.
"Rick and I did work together for about five or six months to see if we could make it happen. Musically and personally, we were getting along very well — maybe even better than we ever had."
So what happened?
"The business end and the who-gets-what end became so important, there were so many meetings, that I got disenchanted," Hodgson admits. "That was it."
He says a future Supertramp reunion seems unlikely.
"I'm feeling so renewed and full of creativity myself, to look backwards to an old relationship doesn't interest me," he says.
Hodgson is currently on a world tour to promote Rites Of Passage, and he's performing solo.
"I've never done a Roger Hodgson tour. This is my first one," he says. "I'm alone on stage, and it feels very appropriate to come out that way. This is very much a new beginning for me. "
"It's really a measure of how I've changed over the last fifteen years."