By Nick Krewen
Special To The Star
You may remember him for his No. 1 smashes "This Guy's In Love With You" and "Rise" – and for his signature "happy" trumpet sound fronting The Tijuana Brass – but Herb Alpert has worked his way into your musical DNA probably more than you realize.
Yes, there were the familiar '60s instrumental hits like "The Lonely Bull," "A Taste of Honey," "Spanish Flea" and "Casino Royale" – all of which will likely be on the set list when Alpert, 88, performs at Queen Elizabeth Centre May 13 with his wife Lani Hall, a former singer for Sergio Mendes & Brazil '66.
But from 1962 through 1989, the L.A. born Alpert partnered with producer Jerry Moss to form A&M Records, and helped either launch or establish some of the world's most beloved and influential artists.
A short list: Bryan Adams, The Carpenters, Supertramp, Peter Frampton, Styx, The Police, Sting, Squeeze, Burt Bacharach, Quincy Jones, Cat Stevens (now known as Yusuf), Sheryl Crow, The Captain & Tennille, The Flying Burrito Brothers, Strawbs, Gino Vannelli, Lucille Starr, Joe Cocker, Nazareth, The Tubes, Chris de Burgh, Janet Jackson, Joe Jackson, Soundgarden and – for all of a week – The Sex Pistols.
Frampton's multi-million selling Frampton Comes Alive? A&M. "Love Will Keep Us Together," the No. 1 hit of 1975? A&M.
Carole King's Tapestry, the biggest selling album of all time at 30 million copies in the '70s until Michael Jackson and Thriller came along?
Well, that was actually Lou Adler's Ode Records, but it was distributed by…A&M.
There are many, many more success stories, mind you, but Alpert said recently from his Malibu home that the label began initially as a necessity following the growing popularity of "The Lonely Bull."
"Jerry and I happened quite by accident," explained Alpert, whose biggest success up to this point had been as a co-writer of the Sam Cooke R&B classic "Wonderful World."
"We were just putting out a record. Back into 1962, there were a lot of record companies operating out of the trunks of their cars. We decided to do this "Lonely Bull" record and Jerry was helping me produce it, inspired by an experience Jerry and I had in Tijuana (Mexico) at the bullfights.
"We thought we'd put out this record and see if radio would respond."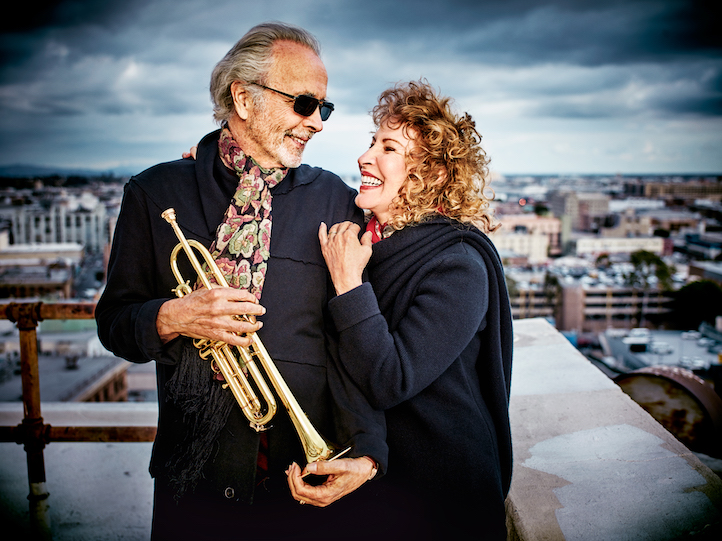 It was planned for The Lonely Bull to be released on Carnival Records, but the duo discovered that another label had already snagged the name. Alpert said the name A&M was actually the third choice.
"So, we put this record out and wow, all of a sudden, it took off like a rocket ship – and Jerry was smart enough and able enough to gather our distributors for us."
At the request of retailers and distributors, Alpert recorded a full album behind "The Lonely Bull" and the slight mariachi influence of his music caught fire.
But because Alpert struck lightning with an instrumental song, some of the A&M distributors thought it would be a difficult run on which to base a career, and suggested "they take the money and run."
However, Alpert and Moss would not be deterred.
"I just thought, there's something about this sound that really feels good," Alpert explained. "I like the idea of this sound. So I didn't try to remake 'The Lonely Bull' sideways and upside down: I tried to see how far I could take that sound with other songs.
"That's how A&M actually started. It didn't start upfront – it started after we had some success and one thing after another we made that decision to see if we could hold it for a while. And we held it!"
"The Lonely Bull" led to 1965's Whipped Cream & Other Delights – its controversial cover featured a naked model whose modesty was covered in whipped cream – and the album proved to be so popular that Alpert was forced to actually assemble a Tijuana Brass in order to tour the world, selling out 20,000 capacity arenas.
Success at this point also enabled Alpert and Moss to buy silent film star Charlie Chaplin's Chaplin Studios from CBS for a cool US $1 million as A&M's new headquarters. The three-acre lot consists of a number of soundstages – including a pool under one of them – and studios that were eventually opened up to non-A&M acts ranging from Joni Mitchell and The Doors to Led Zeppelin and Pink Floyd.
For the tour, Alpert's opening act, bossa nova ensemble and A&M signing Sergio Mendes and Brazil '66, featured a young singer named Lani Hall.
"As the story goes, we had Sergio and the group open the show for the Tijuana Brass in the early days for a couple months, and Lani and I became friends. In the early days, she was 19 years old when we started and always called me Mr. Alpert for about a year," he chuckled.
Alpert also signed composer Burt Bacharach in '67, and the songwriting team of Bacharach and Hal David added a few hits over the next decades to the A&M canon, including Sergio Mendes' Top 10 hit "The Look Of Love" and "This Guy's In Love With You," Herb Alpert's first No. 1, ironically as a vocalist in a trumpet-free arrangement.
What separated fiercely independent A&M from the rest of the pack and attracted artists was the respect accorded their work. Unlike the major record labels, bean-counting and bottom-line results weren't the motivations for signing acts – and artists also had plenty of say in every aspect of their recorded material, right down to the album design.
"I think it's an example of how we treated artists," Alpert agreed. "You know, they felt very comfortable. They didn't have to come in with a great plan for recordings. Their artistry and their concepts and their history was enough for us."
For Alpert and Moss, it came down to a music first, sales later concept.
"Jerry and I were trying to make good records, but records that we would buy ourselves, so that was our pursuit," Alpert said, "We weren't trying to make that magical hit record that everyone else could expect. We were going for the road less traveled with most of the artists we have.
"I just followed my gut – that's the way I was choosing artists. When I heard The Carpenters, it wasn't the type of music that I play for my own personal collection. But there's something about (Karen Carpenter's) voice and Richard's enthusiasm, that struck me like, this is the real thing. So I took a chance to let, and then gave them the tune 'Close to You' to record and man, bang! They hit hard. They're still selling records, God bless (Karen) She was a fabulous artist.
"Cat Stevens – this guy and a guitar was all you needed. Maybe you hear this guy by himself and say, 'wow, man, intense,' – but what an energy, what a great artist this guy is."
Alpert admits there were misses.
"People would come in with masters looking for a company to help to distribute their record," he recalled. "This guy played this record for me, and I hated it, man. I thought it was too long, out of tune and there was the original recording of it, years, before that I liked better.
"I told him, 'I think I'll have to pass on this one, but keep going if you really believe in what you've got here. Anyways, that record I passed on for A&M turned out to be 'Louie, Louie' (by The Kingsmen.)
"It was number one for eight weeks in a row," Alpert laughed. "It was egg on my face, but I still don't like the record."
A&M continued to prosper, but in the late '80s, both Alpert and Moss thought they had taken the label as far as they could. They ended up selling their label – founded with an initial $1000 investment – to PolyGram (eventually Universal Music) for $500 million in 1989, with an agreement to run the label for another five years.
But a presidential regime change at the company at the start of the '90s cut short the duo's reign – earning Alpert and Moss an estimated $200 million each as a penalty for early termination – and their run was over.
Had they known what the future held, would the principals at A&M have sold their baby?
"That's a good question," Alpert replied. "Probably not, if we knew exactly what was going to happen.
"But at the same time, you know it was hard to compete with the large corporations. I liked Prince. I heard the demo of Prince – so did Jerry – and we both that this guy has something special. But when push came to shove, and when Warner Brothers offered him an enormous situation, we couldn't compete with that. If we had done that and made a mistake, our ship was sunk, we had to be careful."
These days, label concerns are the furthest thing from Alpert's mind. The Queen Elizabeth Theatre show will feature Alpert, who is also an avid painter and sculptor, performing on his first love – the trumpet – that helped him sell 72 million records – and with his soul mate, Lani Hall, as they perform past hits and "other songs that are really fun to listen to."
How did Alpert meet the trumpet?
"Well, I was fortunate in my grammar school," he said. "There was a table filled with various instruments and I had to pick up the trumpet. Couldn't make a sound out of it. I'd just blow hot air into the mouthpiece and it doesn't work like that, but when I finally did make a sound, I started taking some lessons.
"I realized that the trumpet was talking for me. I'm a card-carrying introvert and this trumpet was saying things that I couldn't get out of my mouth, so, it was like my best friend. I still have fun playing. It's something that grounds me and keeps me in the exact moment of my life when I'm playing."
And, speaking of Hall, what is it about Lani that makes your heart skip a beat after almost 50 years of marriage?
"There's something about Lani that really touches me. There's something about" he continues, suddenly singing a snippet of George Harrison's "Something" over the phone, "something in the way she moves," that got me. "I love her. She's an angel. She is so sensitive. She's an empath – she's sensitive to everybody's problems. We just connect. I couldn't be happier.
"I'm very, very, very grateful and lucky that I have this relationship because I think love is the only answer. You can have all the money in the world but if you're not happy; if you don't have a good relationship with someone, you're missing something."