Fan Fair
Nick Krewen
GRAMMY.COM
Farewell Fan Fair.
When it wound down June 8 with a rare reunion of The Judds, the door closed on a 32-year tradition. Upon its return in 2004, the annual Nashville country music festival – which encourages fans to mingle with its stars – will be sporting a different name: the CMA (Country Music Association) Music Festival.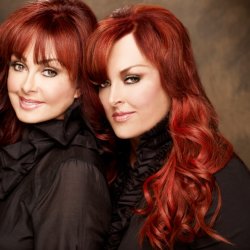 More troubling to hardcore country music fans, however, is the CMA's new willingness decision to welcome non-country talent into the mix.
Although acts such as The Beach Boys and the soap opera casts of Days Of Our Lives and Passions have made Fan Fair appearances in the past, this official policy change – combined with few details regarding the transition – have put country fans on the defensive.
Worried that their premier country music festival is going to be distilled by an onslaught of non-country artists, distraught fans – and some industry professionals – have been flooding CMA offices with e-mails and phone calls expressing their concern.
Published comments by CMA executive director Ed Benson, describing the annual love-in as "an event any Nashvillian could come to and not feel like something was going to jump off on them and infect them" – inferring an unsophisticated stigma attached to the words "Fan Fair" – weren't reassuring.
"They make us sound like a bunch of nose-picker, butt-scratcher country hicks," complained Fan Fair attendee Annette Wood of Davenport, Iowa to The Tennessean.
But a yearly attendance drop, a decline in superstar attractions and continuing money losses have left the CMA grasping for solutions, clearly puzzled at its fizzling mandate to expand country music's audience.
The first major step towards growth came in 2001, when the CMA relocated Fan Fair from the self-contained 24,000-seat Tennessee State Fairgrounds  — its home since 1982 and a place where fan booths and artists exhibits were mere steps away from the concert venue, a converted racetrack  — to downtown Nashville.
"When we made the move (downtown), it was a commitment by our board to say we're going to build this event for the future," Benson told The Tennessean.
Fan Fair was switched from a week to weekend festival, downsized from five to four days.  Record label showcases shifted to the 66,000-seat capacity Coliseum for the evenings, and the much smaller Riverfront Park stages for weekdays. And booths where fans wait for autographs were transferred several city blocks away to the air-conditioned Nashville Convention Center.
However, these transitions came with a price to Fan Fair visitors. Camping, which kept costs economical for many tourists and added a social element to the outing, was banned. Admission prices were also jacked up: A $95 ticket that allotted you four nights and five days of country music, a free meal and – until it was scuttled in 1997 by Gaylord Entertainment – admission to their Opryland U.S.A. theme park, gave way to $115 tickets with no additional incentives.
Today, the top ticket for gold circle admission into the Coliseum for four days and nights of country music is $250 – a 211% increase from 2000 prices.  If you're 18 and under, you can pay as little as $86 to attend the festivities, although you're denied gold circle access even if you have the money.
Other implemented changes have made artist accessibility more restrictive. Stages once within handshake reach of fans are now heightened and inaccessibly barricaded. Photo lines that formerly allow shutterbugs to watch shows while they waited to snap their cameras are now re-directed through Coliseum corridors.
And the lack of superstar talent hasn't helped. Whether the switch to weekends, normally the most lucrative booking time for recording acts, has had an impact is questionable, but both the 2002 and 2003 lineups were woefully short on marquee headliners.
Although Garth Brooks is in semi-retirement and annual no-shows include superstars Shania Twain and George Strait, other regular visitors decided to skip this year's event altogether. Among the missing: chart-toppers Tim McGraw and Faith Hill, Toby Keith and The Dixie Chicks, Reba McEntire, Trisha Yearwood and LeAnn Rimes, although Rimes did cancel a main-stage cameo duet with Vince Gill due to illness.
However, mid-level and up-and-coming artists such as Rascal Flatts, Tracy Byrd, Lee Ann Womack and Carolyn Dawn Johnson were also absent.
Alan Jackson, Kenny Chesney, Brooks & Dunn, Martina McBride, Patty Loveless and Darryl Worley were among the headline acts played for free, accepting a reported $100,000 contribution to the charity of their choice in lieu of payment.
But even the majority of those acts skipped the opportunity to greet fans and sign autographs at the Nashville Convention Center. After Jo Dee Messina and Montgomery Gentry, familiar names were rare.
Others chose just to keep it private, appear at their own fan club parties which are scheduled to run concurrent with the festival.
As a result, Fan Fair attendance dropped 1.7% — from an announced "aggregate" headcount of 126,500 in 2002 to 124,300 in 2003 – with CMA officially laying blame on a faltering economy and post-Iraq war fallout.
In a separate Tennessean article, however, Benson revealed that Fan Fair, produced at a cost of $3 million, has been losing financial ground for years, with out-of-town attendance topping out at 21,000 visitors. In the same article, CMA associate director Tammy Genovese acknowledged that tourists rather than locals accounted for the majority of ticket sales.
Whether the CMA can stage a reversal of Fan Fair fortune under its new CMA Music Festival guise remains to be seen, but Benson clarified that its country music core will not be supplanted by other genres.
"Any celebrities or musical guests we invite to Fan Fair will have a tangible connection to country music and this lifestyle," Benson explained.
"Our primary mission is always to grow country music. We don't want to limit it."
By excising the word "fan" from the equation, however, the CMA may have bitten off more than it can chew, alienating the very loyalists that have kept Fan Fair alive for more than three decades.