This expanded version was to have been published by Toronto on-line magazine Magnet, which sadly folded after one issue.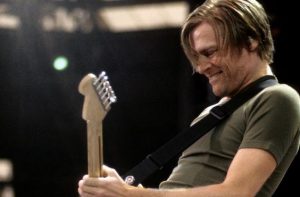 BRYAN ADAMS: 15-YEAR LOVE AFFAIR
NICK KREWEN
Before we get started, there are four things you should know about Canadian rock superstar Bryan Adams.
First, he's a strict vegetarian.
"Eight years!" shouts Adams, as his voice voraciously leaps off the long-distance line from his home in London, England .
"You shouldn't get me started on this one," he warns, "because you'll never hear the end of it. One of my real passions is eating well, so I really believe you're like an engine: what you put in and how fast you expel it is very important. I believe in the whole philosophy of quick burn energy foods and high carbohydrate diets and lots of fresh things.
"It's the best thing I've ever done. Two weeks after I started, I noticed an unbelievable change in my metabolism. I can't recommend it to people enough, because I know what it did for me."
Second, he has no intention of breaking his status as rock music's most eligible bachelor…at least for the time being.
"I've got no plans to get married and I'm not interested in being married," states Adams, pausing briefly before issuing a small codicil.
"Not to say that it isn't possible, but something about the whole idea of it sort of puts me off. Anyway, it wouldn't be particularly fair if I said, 'Okay honey, we're getting married, and then, by the way, did I tell you I have a three-year tour?'"
He laughs.
"Bye!"
As his laughter trails off, Adams continues on a more serious note.
"I think I have to be practical, and that's really the truth of the matter. It wouldn't be fair to anybody else."
Third, he finally learned how to swim in the lush tropical Jamaican ocean early last year.
"I lived in Jamaica for six months, and every day I went swimming in the ocean," states Adams. "And I learned how to swim. It's the most incredible thing I've ever done. THAT place is the best. We're going back in April. We're gonna make a film for the album down there."
Last, but not least, Bryan Adams is an incredibly gifted songwriter.
Oh, you knew that.
But did you know he must have been a fisherman in a previous life?
How else does one explain Adams' naturally instinctive flair for writing pop songs that come packed with more hooks than a Newfoundland turbot expedition?
"Straight From The Heart.""Cuts Like A Knife.""Run To You.""Heaven." "Summer Of '69.""Only The Strong Survive.""Remembrance Day.""Can't Stop This Thing We Started.""Do I Have To Say The Words?""Please Forgive Me."
Classics, each and every one. Instantly memorable, mouth-watering melodies. Shamelessly romantic stanzas that plead devoted, undying love or bleed broken-hearted tears of pain. Skillfully sculpted sonnets that seductively sweep you into romantic reverie, carefully concocted to heighten the hormonal hunger of high-school sweethearts and rekindle the passion between blissfully wedded soulmates. Elegantly euphoric rock 'n roll emblems that celebrate the nectar of youth in all its fist-pumping, hand-clapping, shit-kicking glory.
Love won. Love lost. Love tried. Love tossed. This is Bryan Adams' domain. He is the Bard of the ballad, the Shakespeare of songwriting, with an almost flawless capacity — along with equally meticulous collaborator Robert John "Mutt" Lange (and Jim Vallance before him) — to transcend language barriers and dole out universal messages.
It's a talent that the 36-year-old son of a Canadian diplomat proudly flaunts.
"I enjoy the whole idea of creating something that's going to be heard," explains a cheerful Adams, sounding relaxed and happy.
"I come from the world of being influenced by the people that I adored, like The Beatles. They just wrote hit after hit after hit. When I saw Elton John back in the '70s on (the Goodbye ) Yellow Brick Road  (tour), I sat in the crowd and listened to him play the most incredible songs one after the other, whether they'd be him at the piano or the whole band. I just thought, man, isn't that incredible! These songs are just so great!
"When The Bee Gees were big, I saw them, too. They were another group from the '70s that just wrote the most beautiful songs. They're not big anymore, which is a shame, because I love vocal groups like that. I love groups that really can sing and compose. Those days don't really exist anymore. There are certain groups that still sort of do it, but it's not like it used to be."
Praise him or damn him for resisting trends to honor tradition, but success is his best defense. In the 13-year love affair Bryan Adams has held with the world since the release of 1983's Cuts Like A Knife, he's sold over 40 million records; earned a cache of awards that include The Order Of Canada, a Grammy, 11 Junos and a slew of Australian and Billboard Music Awards; a Guinness World Record recognizing "(Everything I Do) I Do It For You" as the longest standing #1 single on the British charts at 16 weeks; and receives regular requests to share the stage with everyone from Tina Turner and Bonnie Raitt to opera singer Luciano Pavarotti and Roger Waters.
Adams has also followed in his father's footsteps somewhat as a musical diplomat. Along with Vallance, composer David Foster and manager Bruce Allen, he organized and composed "Tears Are Not Enough" — Canada's answer to Britain's Bob Geldof–Midge Ure organized Band Aid's "Do They Know It's Christmas" for African famine relief — and was the sole Canadian to perform at Live Aid.
The Conspiracy Of Hope, The Prince's Trust, The 1988 Winter Olympics have all been beneficiaries of Adams' generosity. In 1990, he was invited by Pink Floyd co-founder Roger Waters to participate in a live rendition of The Wall commemorating the dismantling of The Berlin Wall.
This calendar year was barely 15 days old when Adams received nominations for a Golden Globe, an Entertainer Of The Year Juno, and a pair of Grammies. Such accomplishments could sprout an ego comparable to the CN Tower, but Adams' reaction to his Grammy nominations for "Have You Ever Really Loved A Woman?" suggests he's a lot closer to earth.
"It's always an honor," says Adams, nominated for Best Pop Male Vocal Performance and Best Original Song Written For A Motion Picture or Television Grammies, to be awarded at the Shrine Auditorium Los Angeles on February 28.
"But I never know what to think. It's great to be thought of in a category with Elton, Sting, Seal and Michael Jackson. When I heard that, I burst out laughing, because I'm just a guy from North Vancouver."
With such an enviable and consistent track record, it's no wonder that in regard to his particularly specialized craftsmanship, Adams calls his own shots and — damn the torpedoes — sets his own deadlines. It's the reason he averages an album every three years or so, and why his upcoming, as-yet-untitled opus — once again written and produced with the equally dedicated Mutt Lange and which he swears will be out on A&M by either April or May — will be his first album full of original studio music since 1991's Waking Up The Neighbours.
"I suppose it's like any team that's very dedicated to their craft," says Adams. "It's kind of like designing, isn't it? It's kind of like being an architect. Without detail, there's gonna be flaws. And I suppose, depending on where you come from, if you're a purist or you're a techno-head, flaws can be brilliant, or they can be interpreted in many different ways: an act of spontaneity, or it can be something the drummer plays.
"My point is, those aren't the flaws that I try and correct. I try and make the sure lyrics are good and the structure of the song is sound. It is like being an architect."
It may surprise you then when Adams seemingly contradicts himself with his next statement.
"Generally speaking, the best songs write themselves very, very quickly," says Adams. "Most of my biggest hits have been songs that have been written within an hour, or within a time frame where things have been plodding and settling and then you just take a left turn.
"It's a bit like digging for oil," he chuckles." Because you never know when it's going to happen. If you don't work at it, you're never gonna find it. It's not like something where I just wake up in the middle of the night, and hope that my pad and pen are there. I have to sit down and really work on it, and that's how things come together. Through the process of sitting and always thinking about creating, you create many different things. One or two of them will spark an idea, and from there you just continue with which ever feels best.
"My standards have always been pretty high. I've tried to please myself first. I'm actually very easily pleased. It just has to be the right thing that pleases me."
Even by his own strict criterion, Adams has high praise for his upcoming album.
"I think it's my best album, and I've never said that about any of my records. So I'm saying it now!" he laughs. " I've got to say it sometime in my career. It's up there with Reckless, and it's certainly the best album I've made since Reckless. So, I'm stoked. I've never been so excited and anxious about releasing a record as this one.
"I was pretty anxious about Reckless. Of course when Cuts Like A Knife came out, I was totally jazzed about seeing how people would respond to that. But I think this is in the grand tradition of what people would expect from me, and surprises really are just that my harmonica playing's gotten a lot better.
"This boy's had the blues!" Adams roars with the light-hearted attempt of impersonating a Mississippi bluesman, and then collapses in laughter.
When the new album finally does roll out of the pressing plant, it will be the end of a painstaking process that began in September 1994 from scratch.
"It's not even a matter of starting with twenty (songs)," states Adams. "I start with nothing, and build up until I have an arsenal of stuff that sounds reasonable. Then I have to sort of look at it and put it all on a tape and listen to it and see if it makes any sense. The ones that make the most sense, I put together, and if I feel I'm still missing a couple of pieces of the puzzle, then I continue to write. At some point, it will sort of magically fall together. And then you think: record. Right. Now I better get an album cover.
"So that's really how it is. There is no real magic or method. It just has to happen — for me, anyway — by closeting myself away and working hard at it. "
There's been no questioning Bryan Adams on how hard he's toiled to achieve his current status. Although it's been a slow and steady climb, he's been focused on music ever since he settled in Vancouver at age 14 after spending his childhood in locations wherever his father was posted: Vienna, Tel Aviv and a four-year stint in Lisbon.
"Everybody should travel around the world, because that's what it's here for," recommends Adams. "Go and see it. Having a world perspective is the best education that anybody could ever possibly have. To know how people think and operate in other parts of the world gives you much broader view of where you are and where you should be."
In between odd jobs that saw him delivering newspapers, handling dog food and washing dishes at the Tomahawk Restaurant, Bryan Adams practiced, played, sang, wrote and knocked on doors.
When he was 16, Adams replaced Nick Gilder in Sweeney Todd shortly after the release of the band's 1976 Juno-winning single "Roxy Roller." Adams bailed for a solo career following the release of 1977's If Wishes Were Horses.
Later that year, he struck up a casual conversation with former Prism drummer Jim Vallance in a Vancouver music shop, and the most successful songwriting partnership in Canadian music history was forged. In 1979, Adams marched into the offices of Bruce Allen, who had previously managed Bachman-Turner Overdrive and Loverboy to international acclaim, and began a relationship that has lasted to this day on a handshake. Signing with A&M, Adams scored a major coup with 1981's You Want It — You Got It  when he secured Bob Clearmountain as engineer and co-producer.
Tours with The Kinks, Journey and Foreigner made him a star in the U.S., but a big mid-80s excursion supporting Tina Turner was essential in securing his superstar status.
While Adams has been keeping the world waiting for his about-to-be unveiled album, he's been keeping his name out in the public in a peculiar sideline. With the exception of "Please Forgive Me," three of Adams' last four hits have been written for motion pictures: "(Everything I Do) I Do It For You"; "All For Love" (a trio with Sting and Rod Stewart), and "Have You Ever Really Loved A Woman?"
"Yeah," agrees Adams. "It's a curious thing.
"I have this 'other career' with film composer Michael Kamen. Every time he makes a movie he calls me up and says, 'Look, I've got this idea, but I don't know where to take it. Can you help me?' And we sit down and create a song."
Adams reveals that he considered forfeiting "All For Love" to another singer because he was worried about a timing conflict with the release of "Please Forgive Me."
"Kamen just said to me, 'Well, why don't you sing it with three people, like the Three Musketeers?' I thought, what a great idea! So again, I was hooked in."
Adams returned the favor when Kamen was perplexed over the flamenco-flavored music he'd written for the film Don Juan DeMarco.
"This piece of music completely floored me and he was in a real quandary about it, because he didn't know whether it was going to be accepted by the people who were doing the film," recalls Adams, who advised Kamen to fight to include the music. A further pow-wow with Lange helped map out the song.
"Within five minutes, the framework was written, sketched on a napkin in a restaurant," says Adams. "The next thing you know we were off in Jamaica writing the lyrics, and shortly afterwards we had a song."
Adams says he's got two more projects with Kamen on the burner, although his own album takes priority. But he does admit it takes him longer to focus back on album writing whenever he works with Kamen.
"It's always like…now what? Michael's already given you a huge starting point. There's a film idea, there's a piece of music to listen to, there's a whole background to go on. Then you're back to your own piece of paper and your guitar, and it's, okay, where do you go from here? But after dinner, generally something comes out."
Mutt Lange may serve as his chief collaborator, but Adams has also been expanding his circles to include Nashville. One of his most treasured colleagues is songwriter Gretchen Peters, best known for penning the Martina McBride hit "Independence Day."
Since Bruce Allen also manages McBride, Adams heard an advance tape of the song and was instantly smitten.
"I listened to that lyric and I said, 'God damn. I want to know the person that wrote this song. I just want to meet her, even if nothing happens,' said Adams. "So I went down to Nashville to meet up with her, and she doesn't co-write with anybody. I'm the only person she's co-written with. We sat down and we hit it off right away, and we just started writing. It's been good, and I think it'll remain good."
The duo co-wrote the B-side of "Have You Ever Really Loved A Woman?" called "Low Life" and penned "Rock Steady," a recent Adams duet with Bonnie Raitt on her live album, Road Tested. Adams also promises the twosome will share a songwriting credit on the new Anne Murray album.
"Everytime I work with somebody different, it's like having a different career. When I worked with Jim Vallance back in the '80s, that was that career. Now I work with Mutt, that's this career. Working with Kamen is like this other diversion. Having Gretchen to work with is another brilliant diversion. All these people that I've been lucky enough to surround myself with are very, very talented.
"And so, it makes me look good," he laughs.
Adams' foray into Nashville isn't as strange as it may seem.
"I've always liked the sort of California country, like Jackson Browne, Linda Ronstadt, The Eagles, and Dan Fogelberg. I listened to a lot of that in the late '70s. I think listening to Jackson Browne was sort of a foundation for my piano playing and my vocals, because 'Straight From The Heart' was sort of inspired by him. I've always migrated towards that singer-songwriter thing. I suppose 'Hearts On Fire' is sort of country, and 'Straight From The Heart' is sort of country sounding."
Adams hasn't been spending all his professional time in studio and songwriting mode. There have also been the concerts, including a weird Canadian knack for christening new buildings. In 1995 there was Toronto's MCA Molson Ampitheatre; Vancouver's GM Place; and in early '96 he anointed Ottawa's Palladium.
"It's hysterical," chortles Adams. "I work for department stores too, don't forget. We did a show for The Bay, their 325th anniversary (near Calgary). So we play for department stores and new buildings now.
"I tell Bruce, 'Look, I'm in the studio. Get me a weekend of gigs a month.' So that's what he does, and he tries to make them as fun as possible. And he's been very successful in finding me some great jobs to do.
"God, I've got to put that guy to work somehow. He's got that big office. He might as well use it."
So imagine the jokes floating around the office when Adams discovered he'd be launching his world tour in April in Estonia of all places.
"Hey Bruce!" Adams crows, "Get me a weekend gig, okay? How about Estonia?"
He laughs.
"So we're starting there in April, and then we work all through the summer. I don't know exactly when we'll be in the States and Canada. I think it will probably be in the Fall. But, oh man, you know. Right now, I'm booked up to July, so who knows where it's going to go from there? I know we can't play Italy much in August, because they close then. So you can forget the Italian tour then. Maybe the rest of Europe. Who knows? It's a big place. We'll get everywhere I suppose eventually.
"But you know what? The album might come out and go pfft, in which case, it'll be a two week tour of Estonia and I'll send you a postcard. "
If by some odd miracle Bryan Adams is sentenced to a lifetime of Holiday Inns, he could always rely on what the Monty Python troupe would refer to his "other other" and "other other other" careers.
Since 1989 he's been building a studio complex in Vancouver called The Warehouse, which he boasts will be the finest in the land when it opens in June.
"I'm a total studio head," admits Adams." It's just because it's what I do. It's my job, so I'd rather have the best stuff. The studio we're putting together in Vancouver is going to be just incredible. It's going to be the best studio in Canada by a longshot. I'm just thrilled about it, because it's a combination of really ancient audio gear and the highest tech modern gear."
He's also an author, as his self-titled Bryan Adams tome was published by Firefly Books in November.
"In the beginning, I was a bit panicky about it, because I wanted it to be as interesting as possible," he admits. " Then I realized, the more text that was in there, the more troublesome it was going to be to release, because I would never let go. So I decided that I'd make it more pictorial.
"Andy Catlin has such a wealth of photographs, because we've been shooting together for years now, that it just made sense to make a picture book with snippets of information, and sort of finger-pointing. Go this way."
Adams says he's very pleased with the result.
"It is a nice broad view of what I've done in the last ten years. It could have been a bit more detailed if I'd thought about it a bit more. But now that I've done that, I can do another one. Like anything, you have to stick your toe in to know if you like it or not."
Adams says he's eager to do another. In fact, he's already begun to take notes.
"I keep sort of a journal of information. I started doing about a page a day of just stream of consciousness, and if something interesting came by, I would just put it down. That's a good reference to go back on if there are stories you want to relate to about different time periods. It's good to keep some sort of track of things.
"Otherwise, how would I remember it in another five or six years? Every day is another adventure."