An Octopus Exclusive!!!! © 1997, 2018 Octopus Media Ink.
All rights reserved.
BOB DYLAN on his album The Songs Of Jimmie Rodgers: A Tribute
JIMMIE RODGERS REVISITED
Nick Krewen
The times may still be a-changin,' but Bob Dylan has taken measures to ensure that the work of one musical icon won't be forgotten anytime soon.
The music of Jimmie Rodgers, the railroad brakeman from Meridian, Mississippi who is widely hailed as a pioneer in the blues and country genres, is the subject of a star-studded tribute album recently organized by Dylan.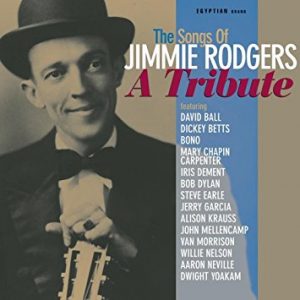 Released August 19 in time to commemorate the 100th anniversary of Rodgers' birth on September 8, 1897 The Songs Of Jimmie Rodgers — A Tribute offers a wealth of noteworthy participants from the pop and country fields. U2's Bono, Alison Krauss & Union Station, Van Morrison, Willie Nelson, Mary Chapin Carpenter and John Mellencamp are just some of the artists offering their own interpretations of such "Singing Brakeman" classics as "Peach Pickin' Time In Georgia," "Mule Skinner Blues" and "Blue Yodel (T For Texas)."
"I'm just glad to be able to bring it to the public. Somebody has to do it," said Dylan, 56, in a rare phone interview from a tour stop in Virginia Beach, Virginia.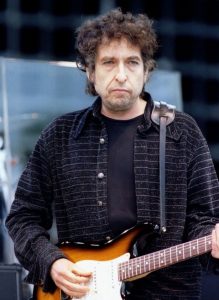 Dylan, the songwriting icon who changed the face of contemporary music in the '60s with such provocative and observant folk anthems as "Blowing In The Wind," "The Times, They Are A-Changin'," and "Masters Of War," says he hopes the album will generate more awareness of Rodgers, who was also known as "The Father Of Country Music," "The Blue Yodeller," and credited as a direct influence on such country music movers and shakers as Gene Autry, Johnny Cash, Lefty Frizzell, Merle Haggard, Ernest Tubb and Bob Wills.
"For sure he's forgotten by the younger people," said a healthy-sounding Dylan, still recuperating from the bout of histoplasmosis, the potentially fatal heart infection that struck him in May.
"But for sure there are people still around who remember. But as performers we should all know him, because by understanding our past we can measure where we're going in the future.
"I can hear him in certain performers. David Ball, for instance, probably sounds closer to Jimmie than anyone today. There's a certain charm to Jimmie's music I think we kept with the spirit of this album."
Though he never played The Grand Ole Opry or the Louisiana Hayride, the ability of Rodgers to mix Southern blues with haunting hillbilly balladry has earned him eternal residencies in both The Country Music and Rock And Roll Halls Of Fame.
Even more impressive is the notion that Rodgers established his legacy within a six year corridor, beginning with the million-selling success of his very first recording of "Blue Yodel (T For Texas)" and "Away Out On The Mountain" in 1927 until he succumbed to tubercluosis on May 26, 1933 at the age of 35.
Dylan says he first became aware of Rodgers' music at an early age through another country superstar.
"When I was growing up I had a record called Hank Snow Sings Jimmie Rodgers and that's the first clue I had that Jimmie was unique," said Dylan.
"The songs were different than the norm. They had more of an individual nature and an elevated conscience, and I could tell that these songs were from a different period of time. I was drawn to their power.
"I like his songs anyway, because on the surface their lyrics seem really funny and bright, but underneath they could be alarmingly dark and dreary."
Ironically, Dylan says he's unsure if one of Rodgers' most famous monikers, "The Father Of Country Music," truly suited him.
"I don't know whether I associated Jimmie Rodgers with country music," says Dylan. "I always thought that the title he had — "Father Of Country Music" — was limiting. The Bate Brothers, Johnnie and Jack , The Carlisles — I saw that as country music."
Dylan's list of candidates for the title includes a group of Depression-era names he feels would be more appropriate: Frank Hutchinson, the West Virginia singer and country blues guitarist popular in the mid-20s ; Charlie Poole, the Alamance County-born singer, banjo player and leader of the North Carolina Ramblers; and Riley Puckett, a blind 1920's hillbilly singer and guitarist from Alpharetta, Georgia who was once a member of Gid Tanner's Skillet Lickers.
"To me the Father Of Country Music is actually Charlie Poole or Frank Hutchison — guys who sang those kinds of songs that Jimmie Rodgers did. Those guys were going in another direction."
In assembling the The Songs Of Jimmie Rodgers: A Tribute , Dylan says he didn't want to revisit territory already covered by Merle Haggard's memorable 1969 Rodgers tribute, album Same Train, A Different Time — Merle Haggard Sings The Great Songs Of Jimmie Rodgers.
"I didn't see any point to making a record like Merle Haggard's record," said Dylan, who offers the album as the inaugural release on his own Egyptian Records imprint.
"That's probably the definitive Rodgers record. So I had to find another way just to get Jimmie's music out there properly. I just trusted everyone involved and did it in respect to Jimmie. I wanted to feature performances by people who aren't necessarily connected to him."
For his own contribution, Dylan chose a more obscure Rodgers number "My Blue Eyed Jane."
"I didn't want to pick one of the 'Blue Yodels,'" he explains. "I thought that would be very obvious so I struck the balance between what other people would pick. I assumed that a lot of other people wanted to explore the blues so I stayed away from that for better and more melodic content."
The album took over a year to compile, and Dylan said all artists were left to their own devices with minimal input from himself.
"Every performer chose what song they wanted to do," said Dylan.
"I could really hear the influences in the music in just about all the performers in one way or another on the record, whether it's first, second or third hand. Everybody was free to suggest their own choice and participate in this. We're trying to do one now on The Carter Family."
Although many of Jimmie Rodgers tunes like "In The Jailhouse Now," and "Mule Skinner Blues" are considered the backbone of country music and are still popular today, Dylan says he's not sure Rodgers would find a comfortable home in modern musical times.
"I think he writes a particular kind of song, and I'm not sure if he could find one," says Dylan, who flirted with country music himself on such earlier releases as John Wesley Harding , Nashville Skyline and New Morning.
"All these terms are so over-used, especially "country music," that I don't know what it is today," states Dylan. "In my mind, it has one or two meanings.
"Country music to me doesn't have piano in it, or drums or electric guitars. It must be some other type of music. l guess there are country singers who sing pop songs who sound more pop-orientated, or kind of like watching rock 'n roll. I don't know what kind of outlet country music would be played on.
"To me it sounds more pop-orientated."
Dylan says Rodgers' universal appeal found both country and blues camps claiming him as a forefather.
"Because he's so singular in his guitar chording, that already implies a contribution as a guitarist," he says. "He plays songs with the kind of sentiments that aren't cosmetic. It's a departure particularly from the other stuff which was going on during his day. He knew exactly where he was heading."
Whether it's Steve Earle and The V-Roys' raucous rendition of "In The Jailhouse Now," Iris Dement's quaint "Hobo Bill's Last Ride" or Mary Chapin Carpenter's "Somewhere Down Below The Mason Dixon Line," Dylan says he's pleased by the efforts contributors made to The Songs Of Jimmie Rodgers — A Tribute.
"I like everything on it," he says. "I think everybody applied themselves well. As for favorites, I think everybody had to do what they had to do in order to maintain the integrity of the music.
"I consider this album just to be a primer Jimmie Rodgers record. It's as much for performers as the record buying public. Jimmie Rodgers was dynamic for his time."
As far as his own music is concerned, Dylan fans won't have to wait much longer. Time Out Of Mind , his first album of original tunes since 1990's Under The Red Sky that reunites him with Canadian producer Daniel Lanois, will be in stores September 28.
Dylan's last two studio efforts, 1992's Good As I Been To You and 1993's World Gone Wrong offered traditional folk songs. Why the delay in new material?
"This is the first album I've done in a while where I've protected the songs for a long time," replied Dylan, who is scheduled to perform before Pope John Paul II Sept. 27 at the World Eucharistic Congress in Bologna.
"I really just waited until I couldn't wait any longer."
-30-
Versions of this feature appeared in The Toronto Star, The Long Island Voice, Country Weekly and various Southam newspapers