MAY 15, 2017
When the musical "Kinky Boots" captured six Tony Awards in June, including wins for Best Musical and Best Original Score Written For The Theatre, its composer was a familiar name to pop music fans: Cyndi Lauper.
It was the GRAMMY winner's first foray into this new discipline, but she's not the only one to take the Broadway leap. In what seems to be a coincidental trend, 2013 promises to yield a bumper crop of musicals tendered from pop and rock superstars, kick-started by the release of an album and tour based on the John Mellencamp-Stephen King-T Bone Burnett "supernatural" musical "Ghost Brothers Of Darkland County" in June and October, respectively, and extended at least through next autumn by Sting's "The Last Ship" (scheduled for a fall 2014 launch). Planned shows also include Tori Amos' "The Light Princess" (Oct. 9); and Duncan Sheik's fifth and sixth musicals, "American Psycho" (Dec. 3) and "Because Of Winn Dixie" (Dec. 4). Also in the works are "Harmony," the first stage musical by Barry Manilow, premiering in Atlanta in September, and "Beautiful: The Carole King Musical," a production based on King's life and music arriving for Broadway previews Nov. 21.
These artists are joining a growing lineup of contemporary luminaries, including U2's Bono and The Edge, Elton John and Green Day, who have successfully stepped outside their regular album-tour cycle comfort zones to mount Broadway spectacles, or at the very least, projects appealing to theater-loving crowds.
Often taking lengthy amounts of time to complete — Mellencamp and best-selling author King took 13 years to finish "Ghost Brothers Of Darkland County" — and involving multiple workshops, musicals often force composers to challenge themselves and think outside the box.
"I had to learn how to write for other voices besides my own," says Lauper, addressing the task of writing for characters previously established by the 2005 British film Kinky Boots. "[I] never had to do that before.
"When I perform, a lot of the time I pretend I'm someone else when I'm singing. When I sing 'At Last' I'm a certain gal; when I sing 'Girls [Just Wanna Have Fun]' I'm another and when I sing 'True Colors' I go to another side of myself. So as a performer I've become other people.
"I just had to learn to do that as a songwriter."
Lauper, who co-wrote her pop smashes "Time After Time," "She Bop" and "Change Of Heart," said that she took inspiration for the songs for "Kinky Boots" character Charlie from her son Declyn, Lauren from cast actress Annaleigh Ashford and Lola from herself, "because I am a drag queen in some ways."
"I did really try to work hard and give every cast member a real voice to tell their story … from the leads to the chorus," she says.
Duncan Sheik knows the drill. His musical "Spring Awakening," co-written by Steven Sater, captured eight Tony Awards in 2007, including Best Musical, Best Score and Best Orchestrations. The musical also took home a GRAMMY for Best Musical Show Album at the 50th GRAMMY Awards. Despite the success, Sheik admits that when he first began he "thought musicals were the worst genre in the universe."
Sheik, who scored a Top 20 hit with 1996's "Barely Breathing" and has released seven studio albums (an eighth is due late 2013/early 2014), changed his mind when he read Frank Wedekind's play.
"I thought maybe we could do something if the music was stylistically different than what you normally hear in the theater," he says.
"The brilliant thing about writing music for a narrative that has a really long arc is that you're not chained to the idea of, 'I need to write a three-minute pop song that's going to express a succinct idea about something that's happened in my life.' You write songs and you write music from a perspective of a very different persona from your own.
"So all of a sudden the sonic and emotional palettes become much more broad, much more fun and much more interesting. That's really cool because that allows you to open yourself up and do things that you might not normally do. There are songs I've written for 'Spring Awakening' and other musicals that I would have never written as Duncan Sheik songs."
The collaborative process for a musical is also different, as numerous creative and financial interests contribute their portion of what amounts to a big jigsaw puzzle.
"There are way more people, and that can be really tough," admits Sheik, whose "Spring Awakening" is due to be filmed for the silver screen later this year.
"Usually you have a writing partner you work with who is writing the book and possibly the lyrics; you have a director who is calling all the shots; then you have producers who are putting the money into this and making it happen, so they have their say as well.
"You have a whole creative team — costume designers and lighting designers, and they end up affecting the music in certain ways too, because people need to be able to wear certain kinds of clothes and do certain kinds of movements. All these people have a huge effect on what the ultimate piece of music can be."
Based on a concept by Mellencamp, "Ghost Brothers Of Darkland County" tells the tale of two brothers who get into a fight over a woman at a cabin haunted by ghosts, with one of the brothers winding up dead. The surviving brother and woman speed away in a car, but ultimately crash into a lake and drown.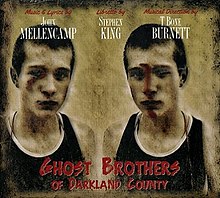 "It was Steve's job to tell the story," Mellencamp told Rolling Stone about King's role. "It was my job to develop the characters through songs. That's different than most musicals."
As the musical was nearing completion, Mellencamp and King called upon Burnett to help fine-tune the music.
"The idea was for me to come in and create the vibe," Burnett told Rolling Stone . "We took the songs and cast them with different singers and musicians, and began creating what I hoped would be a foggy, ghost sound."
Lauper, who was personally requested to provide the score for "Kinky Boots" by the musical's book writer, Broadway legend Harvey Fierstein, said her four-year endeavor was an incredible journey.
"Working with this amazing creative team [and] seeing the show come to life from each stage — from script to workshop to getting the cast to the next round of workshops, to rehearsals to out of town run to opening in Chicago, to opening night on Broadway — it was an amazing process to be part of and I still get tears in my eyes when I see the show even now," says Lauper.
Sheik agrees that all the blood, sweat and tears injected into creating a musical seem to evaporate once the production is staged.
"The reward is being in the audience where the whole thing coalesces in front of you: the narrative and the song and the staging and all the design aspects of the piece kind of come together, and it's this magical thing that music does that no other medium [does]," he explains. "It's completely transporting and it really feels like the audience is having an experience as well. It has a different depth to it, and when you get it right, there's nothing better."
And now that she's got one musical under her belt, would Lauper contemplate another?
"Without a doubt," she says.
(Nick Krewen is a Toronto-based journalist and co-author of Music From Far And Wide: Celebrating 40 Years Of The Juno Awards, as well as a contributor to The Routledge Film Music Sourcebook. He has written for The Toronto Star, TV Guide, Billboard, Country Music and was a consultant for the National Film Board's music industry documentary Dream Machine.)
Cyndi Lauper, John Mellencamp, Duncan Sheik Find A Musical O | GRAMMY.com